8.1.2011
Hradec Králové – The winter theatre in the heated military tent erected by Róbert Nemeček and his supporters opposite the barracks may be up and running for longer.
Protest pamphlet signing due to parking in the centre (7 January 2010). | Photo: DENÍK/David Taneček
The organisers of the protest appeal pointing out to one of the solutions of parking in the centre by using the inner part of the barracks want to run weekend cultural events until some concrete solution is found through which the army would transfer to the barracks to the municipality.
"We do not want this area to be bought by some developer, we want a car park under the municipality and not the ISP (Atol) corporation," said Róbert Nemeček while organising the "Barracks to People".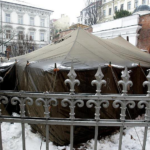 "We have been talking with the army for many years. We are interested in the facility, we would use the area as cheap car park. Regarding the buildings there is no set goal yet," said vice mayor Martin Soukup.
"The buildings serve as the headquarters of the Military building and housing services, Military police, Regional financial authority, and there are warehouses too. If the object becomes surplus, it would be first offered to other state bodies for transfer, and only then for sale," said Vladimír Lukovský from the press department of the Ministry of Defence.